Canada Facts
Country Overview
Canada is a North American country consisting of ten provinces and three territories. Located in the northern part of the continent, it extends from the Atlantic Ocean in the east to the Pacific Ocean in the west, and northward into the Arctic Ocean. Spanning over 9.9 million square kilometers, Canada is the world's second-largest country by total area, and its common border with the United States is the longest land border in the world.
Strong Economy
It is one of the world's richest and most developed countries, ranks among the top ten industrial powers and is recognized as having one of the highest standards of living in the world. With low inflation and steady economic growth, Canada offers good trade and investment opportunities in many sectors.
A recent study comparing business costs in Canada, Europe and the USA placed Canada ahead of other G7 countries across a broad range of business operating costs. Canada's market economy has maintained a varied structure with both small companies and multinational giants playing important parts. Natural resources remain a major factor, but the growth of hi-tech industries often involving small dynamic enterprises, is of ever increasing significance.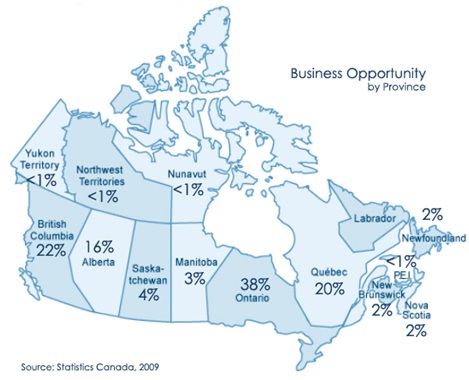 Canada Quick Facts
Area: 9,984,670 sq km
Population: (estimated population) is 33.4 million (2009)
Capital city: Ottawa
Languages: Canada has two official languages, English (59%) and French (23%). 17% of the population has another language as their 'mother tongue'.
Currency: Canadian dollar (CAD)
Nominal GDP: C$ 1.319 trillion (2009 est.)
GDP per head: $ 38400 (2009 est.)
Labour force: 18.4 million (2009 est.)
Major industries: Automobile manufacturing, pulp and paper, iron and steel work, machinery and equipment manufacturing, mining, extraction of fossil fuels, forestry and agriculture.